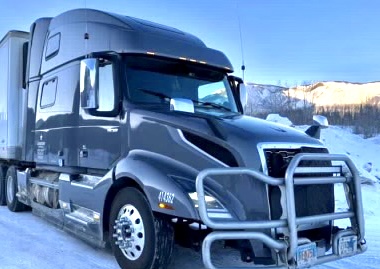 Introduction
Everyone who lives in the 49th state knows that getting fresh produce, meat, plants, trees, and other goods that need to be temperature controlled, can be a challenge. At 49th Freight, we know that moving this freight can be a daunting task. There are a variety of factors to consider; weather, road closures, mechanical breakdowns, temperature controlling the goods, and simply transporting the freight with care. Alaskans know that there of the variety of transportation modes, with pros and cons to each, to move freight to our great state.
Over-the-road refrigerated trucking (Reefer) to Alaska
Produce and other goods received here in Alaska are only 2-5 days older than those you would find in Seattle or other areas on the West Coast. Here at 49th Freight, we believe the best approach to transport these goods is over-the-road. By doing this, we can deliver fresh bananas all the way to the North Slope and enjoy stunning Christmas trees during the holiday season.
How is this accomplished?
Weather is unforgiving. That's why it is important to have a skilled team of drivers, with reliable equipment for time and temperature sensitive deliveries. There is a heavy planning component for Reefer shipments. For example, making sure the Christmas trees have all of the water that they will need during their 75-hour transit period. Once the doors shut, the trees are enclosed until they arrive at their destination. Another example would be making sure the produce and meat deliveries arrive on time so that they reach the market as fresh as possible. At 49th Freight we believe it is best to be prepared. Should an issue arise with a truck or a shipment, we have other trucks available to step in and assist ensuring that the delivery makes it in a timely manner to reach the market.
What's the alternative?
As every Alaskan knows, shipping the items we want is nothing that's new to us. There are barge and steamship (containership) services that leave ports in Washington for Alaska two times per week. We do not recommend this service for your fresh produce and meat simply because the transit time from port to port is 5-10 days. When the ships arrive in Anchorage, they are sorted and need to make their way to the final destination. This extended shipping time can make the difference between fresh and spoiled products.
Conclusion
There are a variety of options to move goods to and from Alaska. For your perishable goods, 49th Freight recommends over-the-road refrigerated trucking. This short delivery time is your best option to ensure that perishable goods reach the market fresh. If you have temperature regulated, time sensitive shipments, exploring over-the-road reefer services to Alaska, may be the best option for you.